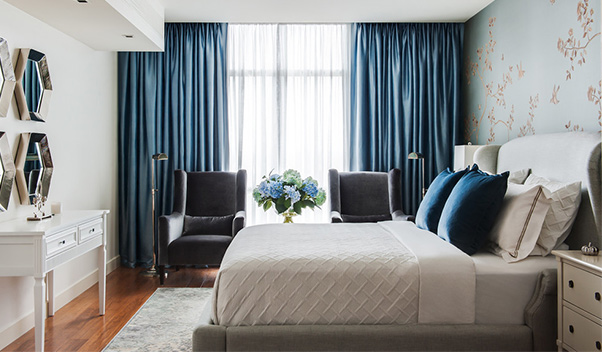 Curtains can add a lot to a bedroom's overall design. Not only do they provide privacy and light control, but they can also add color, texture, and visual interest to a space. Whether you're looking for something bold and colorful or subtle and sophisticated, we've put together ten bedroom curtains ideas to help elevate your space.
Floor-to-ceiling curtains:
Floor-to-ceiling curtains are a great option for creating an elegant and luxurious look in their bedroom. They can also make the ceiling look higher and the room more spacious.
Sheer white curtains:
For a more subtle and airy look, consider opting for sheer white curtains. They allow natural light to come through and add a delicate touch to the space. They also pair well with any color scheme.
Bold and colorful curtains:
Make a statement with bold and colorful curtains. This is a great way to add a pop of color to your space, whether you match it with your bedding or go for a contrasting look.
Velvet curtains:
Velvet curtains add a touch of luxury and warmth to any space. They also provide great insulation and can help reduce noise.
Blackout curtains:
For light-sensitive people, blackout curtains are a great option. They block out all light and provide complete privacy. They come in various colors and styles, so you don't have to sacrifice style for functionality.
Patterned curtains:
Patterned curtains can add depth and texture to your space. Opting for a subtle pattern or a bold print can bring life to your bedroom.
Linen curtains:
Linen curtains provide a relaxed and effortless look to any space. They add a natural and organic texture and complement any color scheme.
Layered curtains:
Consider layering curtains for a more dynamic and dimensional look. This can include sheer curtains underneath a heavier set or mixing patterns and colors to create a unique and personalized look.
Roman shades:
Roman shades are a great alternative to curtains, providing a sleek and minimalistic look. They are perfect for small spaces, or those who prefer a more understated style.
Custom curtains:
If you need help finding the perfect setting for your space, consider opting for custom curtains. This allows you to choose the exact style, material, and color that perfectly complement your bedroom's aesthetic.